Unless you've ever worked as a professional photographer, there are probably many misconceptions you have about the photography business. Although it may seem like an easy job—just point that camera and shoot!—being a photographer is anything but easy. Photographers work under pressure in ever-changing environments with all types of people. The work is often physically demanding, and when a photographer isn't obsessing over lighting to capture the perfect image, they're managing the business aspect of things, or they're sitting at their desk for long hours editing photos.
Because I want to paint a better picture (no pun intended!) of what goes on behind the scenes, I am blogging today about some of the most common misconceptions people have about photographers. I will likely add to this list at a later date, but for now here are the top seven:
Misconception #1: A photo shoot entails taking photos and that is all
So you scheduled a portrait session and your photographer snapped some photos, and you should expect to view all the images 30 minutes later, right? Unless you visited an assembly-line, get-er-done, big-name chain photography studio (and if so, settled for a drive-thru hamburger rather than a sirloin steak), the answer is no.
These days you'd be hard-pressed to find a photographer who does not rely on Photoshop, Lightroom or some other type of editing software to fine tune their images and give them that wow factor clients seek. While it's still an important goal to get the image as close to perfect as possible when you click the shutter on the camera, those superstar images that make you go WOW almost always involve some extra magic courtesy of editing software. For photographers who shoot in RAW (a setting on the camera that requires additional editing for every image taken), computer editing is a given.
To be honest, it irks me when people act like "real" photographers don't use Photoshop. Um, yes they do. Every day. Don't get me wrong—knowing how to use your camera and understanding light are irreplaceable and necessary skills, but so is knowing how to tweak an image in Photoshop or Lightroom to make it absolutely stunning. In my mind, both are art forms.
In addition to editing images, photographers must also sift through the many photos they have captured, select the best and cull the rest. This can be time consuming, particularly for lengthy shoots such as weddings or other events. (More about weddings later!)
Another factor clients often overlook is the time a photographer spends preparing for a shoot. Whether you're driving to an outdoor location, or moving props and backdrops around in the studio, there's almost always some kind of prep work involved before the actual photo session gets underway.
So, if you've ever paid a photographer for an hour-long photo session and assumed the photo shoot only entails the hour of work the photographer invested while you posed in front of the camera, think again! For every hour-long photo session, there are many additional hours for both editing and preparation. This is something to consider when you think you're being overcharged for a session fee.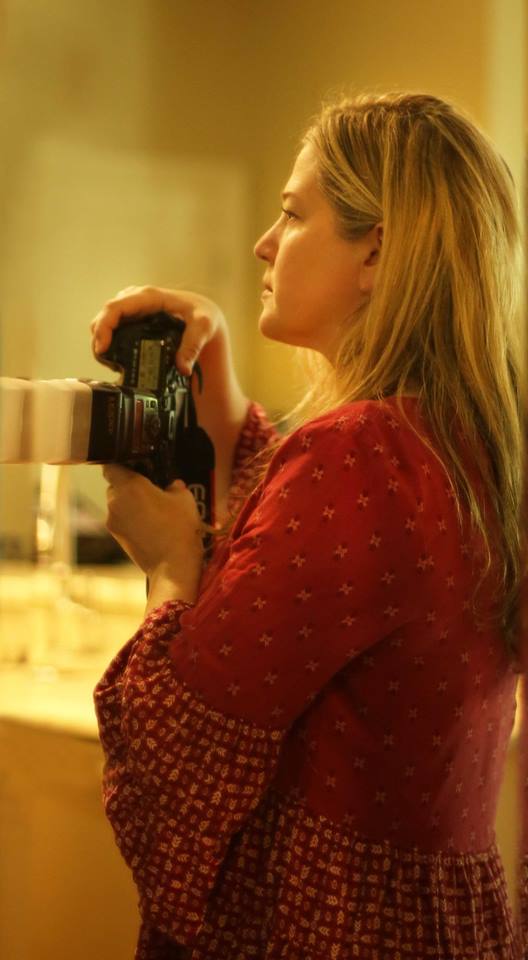 In search of the perfect light.
Misconception #2. Any time of day is just fine for pictures
If you've ever studied your reflection in a mirror under fluorescent lighting and then in candlelight, for example, you've grasped the difference good lighting can make. In short, lighting is everything, and let me be blunt, at certain times of the day, the lighting really sucks! If someone is getting married outdoors under the glaring noonday sun, I always cringe a little as I envision the harsh shadows the overhead light will cast upon their face. The best lighting for outdoor photos happens in the morning or the evening, and while photographers can indeed be miracle workers to some degree, they simply cannot create certain types of images without the proper lighting.
In the studio, the photographer has superb control over the lighting they create, but outdoor lighting is a gamble. I try to control the outdoor lighting as much as possible by shooting outdoors only at certain times of the day.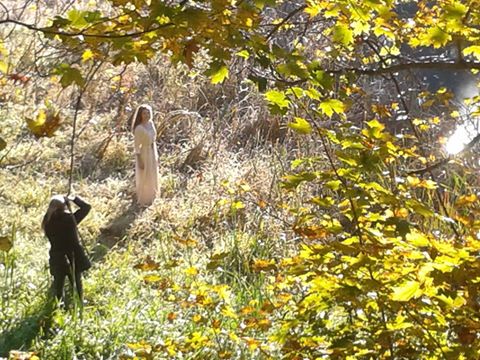 Me with model Miranda, making the most of the "magic light" at an early morning photo session.
Misconception #3: Wedding photography is over-priced
Oh my lord, weddings. Oh my. Can I just tell you weddings are the most stressful kind of photography there is? I mean, if you don't get it right and if you don't capture that special moment as it unfolds, IT CANNOT BE REDONE. And if something goes wrong and you become ill, or your camera malfunctions, you could be in big trouble. Legal trouble, actually. Let that sink in for a moment. Would it make you nervous to mull the possible scenarios of all that might go wrong? It makes me VERY nervous. In fact, I always joke that only one person is more anxious on the wedding day than the bride and groom: the photographer.
It's true some photographers overcharge for their wedding packages, but in most cases I think photographers are earning every dang penny because wedding photography is a TON of work and HIGHLY stressful. Not only must you show up and be "on" for several hours capturing all the sweet emotion and elusive magic of the day, you must also spend hours afterward editing the photos and sifting through the images to find the ones that are worthwhile. And, if a photographer needs to hire an additional shooter to help cover the wedding, the price tag inches yet higher.
In addition, many photographers, including myself, attend the wedding rehearsal as part of preparation for the big day, and they also sit down with the bride and groom ahead of time for a consult about what the couple is seeking. All that time adds up!
Finally, photographing an eight-hour wedding day will whip your butt physically. I always wake up the next morning with aches and pains as if I had completed an intense workout at the gym. You use muscles you forgot you had! Carrying heavy camera gear all day hurts your neck and shoulders, your knees and back ache from bending, if it's a hot day and the wedding is outdoors, you may feel exhausted and dehydrated. It's hard work!  Also, an eight-hour wedding day where hundreds of images are captured can easily translate into a 40-hour work week at home editing images on the computer. Talk about a sore neck! In short, although the price for wedding photography may seem high at first glance, rest assured that a lot of time and effort will go into the delivery of a quality project that captures your important day.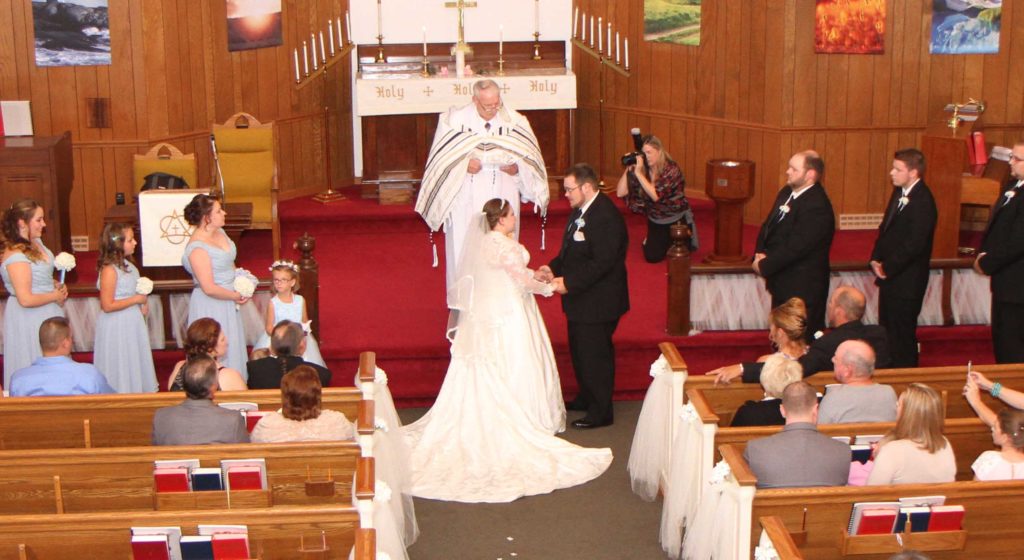 Capturing the emotion of the bride as she says "I do".
Misconception #4: Photography is not a physically demanding job
I've already touched on this point, but let me be more specific. Unless you have assistants who move your props and carry your gear, and unless you never venture out of your studio to do on-location shoots, photography is physically demanding.
When preparing for a shoot at my studio, I have moved heavy antique doors and antique couches. I've stood tiptoe on chairs to hang canvas backdrops. Out in the field, I have climbed fences, laid in the middle of roads, traversed gurgling streams, hiked steep hills, dodged poison ivy, been bitten by mosquitoes, sweated uncomfortably in hot, humid temperatures and froze my fingers in the dead of winter.
I have crouched down and sang songs and made silly faces for crying children who refused to smile. Last but not least, when I sit for long hours at my desk editing photos, I inevitably contend with neck, shoulder and back pain.
Are you getting the picture? Like I said, unless you have an assistant who does all of this for you, and unless you never leave your studio, this job does require some level of physical fitness.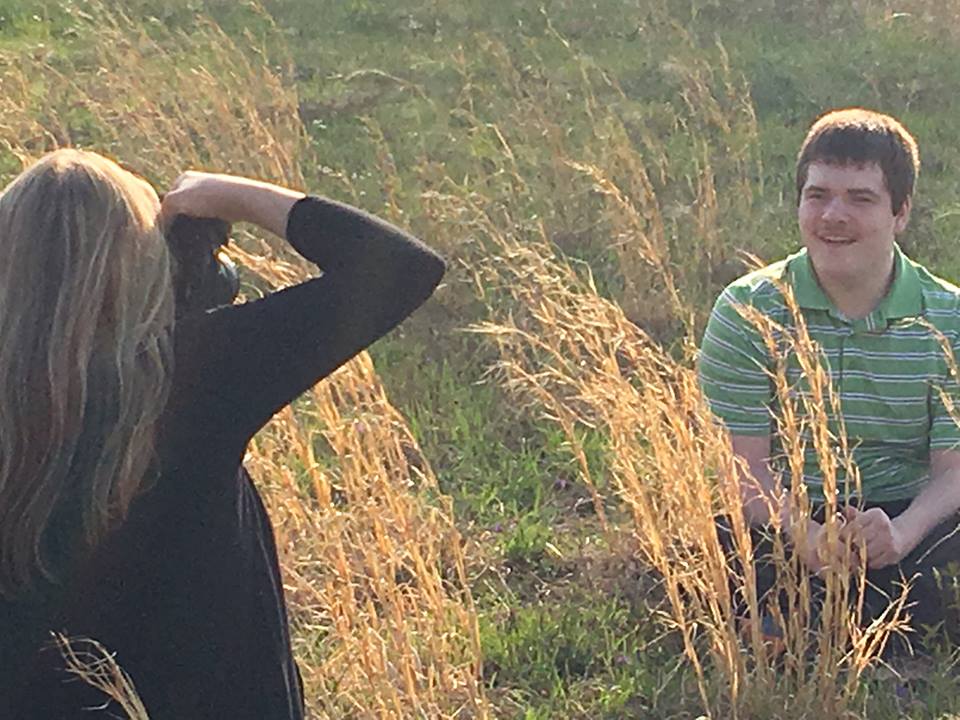 Out in the field (literally) with high school senior, Andy.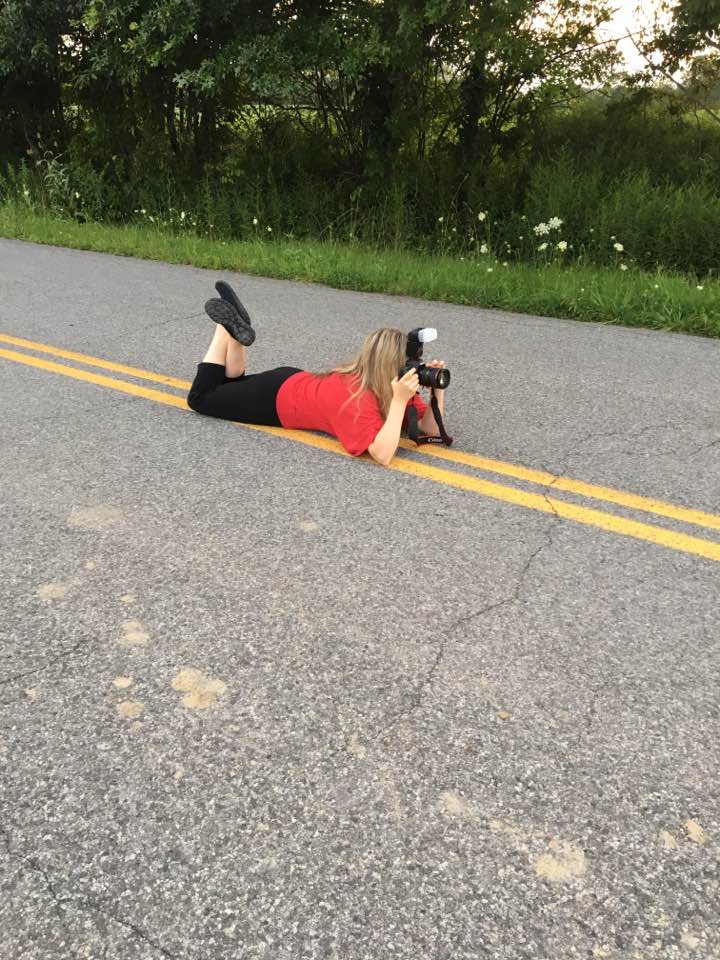 On the road again.
Misconception #5: Fine art photography (in a frame) is overpriced
Not all portrait photographers also specialize in landscape photography the way I do, and not all portrait photographers participate in occasional art shows. For me, landscape and nature photography are my great escapes—something I do to feed my soul. I simply love getting behind the wheel and venturing the less traveled road in search of magnificent images. You never know what kind of sunset you'll find, or when the rays of light will cut the morning mists to create an unforgettable natural masterpiece.
There's nothing better than selling a framed, matted print at an art show and knowing someone admired your work enough to display it in their home. (A big thank you to all who have done so!)
However, many people seem perplexed as to just why framed art costs so much. (Actually, I believe my framed art is very affordable, but that is another topic.)
Listen, framing and matting is NOT cheap. I have spent hundreds in preparation for art shows. You also have to take into account the time that was spent capturing and editing the image. Furthermore, if you'd go to a fancy restaurant and drop $100 on a meal, why wouldn't you spend the exact same on a piece of art that will endure for years and act as a stunning focal point in your home?  
Preparing for an art show. That's my landscape / fine art print "The Old Tractor."
Misconception #6: All prints are created equal
See that image on your computer screen? Did you know that what you see on your computer screen might be different from what I see on my screen? Perhaps your screen displays an image that's a little bit lighter, or a little bit darker, or perhaps the color is less vibrant, or too blue, or too green.
I have viewed my images on different computer monitors and cringed. That is one of the frustrations of digital photography, and this is why I order all of my prints through a professional lab. You see, my computer monitor is calibrated to ensure the prints I order from the lab will match what is on my computer screen.
This is why I encourage clients to order prints through me rather than taking a CD to Walgreens or Walmart and printing the images. It's NOT just a sales pitch. If you go to Walgreens or Walmart for printing, you may or may not end up with a quality image to hang on your wall.  WHERE you get your printing done REALLY does matter.
Granted, I don't discourage clients from purchasing a CD or DVD of images. It's great to have the images preserved in such a way, and it's nice for the client to have the freedom to print as much or as little as they choose.
But if you're considering a giant canvas print to hang over your living room sofa, oh my goodness, please let the professional lab handle it, OK?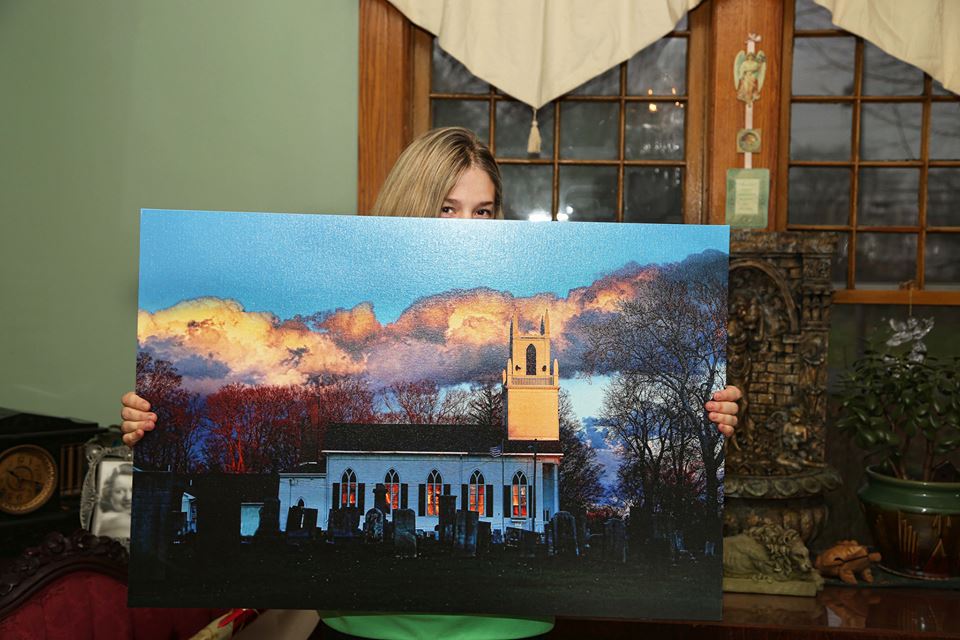 A large canvas print of a local church right after it arrived from the lab.
Misconception #7: Photography isn't a real business
Any professional photographer who's ever been asked to work for free knows the insult and frustration of this misconception. I think when people expect photography services for free,  it probably connects back to misconception number one–that photographers have an easy job and simply hold a camera and click a button and that is all.
Fact is, unless you're a hobby photographer or someone who's just starting out and trying to build a clientele, chances are you're not willing or able to work for free. Photographers spend thousands of dollars on equipment and have accumulated hundreds of hours of knowledge to perfect their craft, so why would it be fair to expect them to work for free?
Art is often unappreciated in our society, but photographers are not only artists, they are also businesspeople. Unless you have someone who manages your affairs for you, you need to be a savvy businessperson in order to succeed as a photographer. Marketing, building and maintaining client relationships, communicating in a professional way, taking calculated risks, crunching numbers–expect to do all this and more.
There are a lot of great photographers out there, so what are you going to do to get your business to stand out from the rest? How are you going to gain new clients and juggle your workflow? If you live in a small community like I do, reputation is important and word spreads quickly as to whether or not your work is any good.
Sometimes artistically-minded folks struggle in the business arena, and in that case, it's best to enlist some help. However, if you're a one woman show like I am, you have to wear a lot of different hats, and the business hat is definitely one of them!
It's hard work, but it's a wonderfully satisfying feeling to watch a business grow, one image at a time.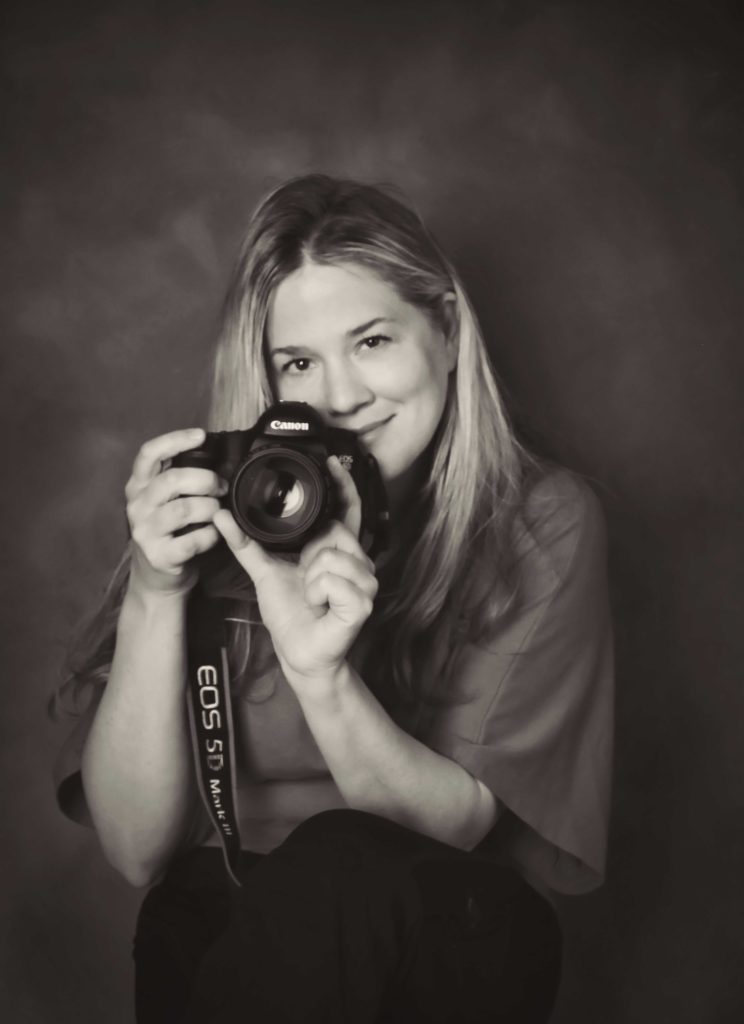 Me and my Canon 5D Mark III.